Garden Grove, California - PDE TECHNOLOGY CORP., is introducing a versatile enclosure unit E302-Mirror and E302-Mirror with Locking Door. The enclosure is a SATA hard drive backup and storage solution that provides an external housing solution for 2 removable 3.5"
SATA hard disk drives with power, cooling, RAID, and interface for Firewire 400/800 (1394 A/B) and USB 2.0
, which connects to almost any PC or MAC platforms. The key feature to this versatile equipment is the protection of valuable data with RAID-Mirror drive redundancy (writes the same data to both disks) while keeping data available for immediate access.

Our OEM manufacturing offers solutions for efficient production and customizations for your individual needs. We offer contemporary designs with rear mounted power switch, bezel with area for labeling, silver with black trays, and aluminum construction. Choose from our available options for custom colors, silk screen, custom printed packaging, and bulk OEM packaging. As always, we integrated the E302-Mirror unit to be a turnkey solution with drive trays, data cables, and drive mounting hardware. For further details and specifications take a look at our E302-Mirror Spec Sheet in this PDF format.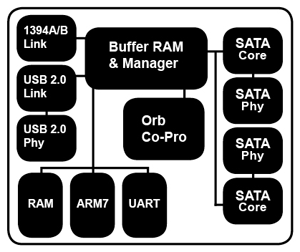 Dual SATA allows connection of 2 SATA drives with hardware mirroring

Integrated Dual SATA core & Phys operating at 1.5Ghz with 150Mbyte/s data rates
Integrated 480Mbps USB 2.0 link & Phy
Integrated IEEE 1394A and IEEE 1394B (for DSB) link
18Kbyte RAM for USB & FireWire data cache
Removable hard drive for easy drive replacement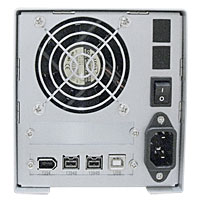 INTERFACES
Firewire 400 (1394A)

2 Firewire 800 (1394B)

USB